Broadway Musical The Student Prince Howard Marsh Old White Studio Photo 1924 #2
Ref. : L01043
Price : €80.00
Size (inches) : about 11.2x14.32
Size (cm) : : about 28.00x35.80
Date : ca 1924
Place : USA
Condition : Silver print, good condition, light creases on edges, some tears and small part missing on right edge

Shipping

UK
FREE

Europe
FREE

Other countries
including USA/Canada
FREE


Orders over €100.00 are shipped in a flat box by registered post.

For orders below €100.00, registered post is available at a cost of €6.00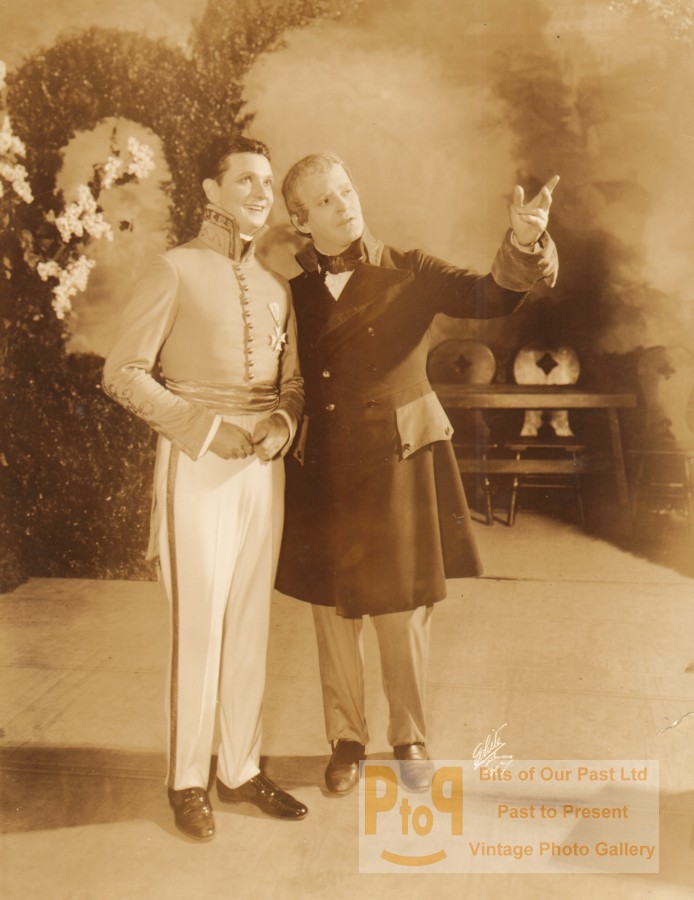 New York Broadway Musical Theatre The Student Prince Howard Marsh Ancienne Photo White 1924 #2


Vintage White Studio Photo in New York.

Broadway Theatre
The Student Prince in Heidelberg
The Student Prince is an operetta in four acts with music by Sigmund Romberg and book and lyrics by Dorothy Donnelly. It is based on Wilhelm Meyer-Förster's play Old Heidelberg. The piece has elements of melodrama but lacks the swashbuckling style common to Romberg's other works. The plot is mostly faithful to its source.

It opened on December 2, 1924, at Jolson's 59th Street Theatre on Broadway. The show was the most successful of Romberg's works, running for 608 performances, the longest-running Broadway show of the 1920s. It was staged by J. C. Huffman.

Drinking Song, with its rousing chorus of Drink! Drink! Drink! was especially popular with theatergoers in 1924, as the United States was in the midst of Prohibition.

Roles and original cast:
Prince Karl Franz – Howard Marsh
Dr. Engel (the Prince's Tutor) – Greek Evans
Kathie (niece of Ruder) – Ilse Marvenga
Ruder (Landlord of Inn of Three Gold Apples) – W. H. White
Lutz (valet to the Prince) – George Hassell
Princess Margaret (fiancee of Prince Karl Franz) – Roberta Beatty
Detlef (a student leader) – Raymond Marlowe
Von Asterberg (another student leader) – Paul Kleeman
Lucas (another student leader) – Frederic Wolff
Captain Tarnitz – John Coast
Gretchen (a young worker at the tavern) – Violet Carlson
Hubert (Lutz's valet) – Charles Williams
Countess Leyden (lady-in-waiting to the Princess) – Dagmar Oakland
Toni (a waiter and wine steward) – Adolph Link
Count Von Mark (prime minister of Karlsberg) – Fuller Mellish
Grand Duchess Anastasia (Princess Margaret's mother) – Florence Morrison
Rudolph – Lucius Metz
Baron Arnheim – Robert Calley
Captain of the Guard – Conrad Sparin
Nicolas – Fred Wilson

See additional scans below.