Russia WWI Military Aviation Observer Raymond Bernet KIA old Photo lot 1917
Ref. : Z00651
Price : €400.00
Size (inches) : about 7.24x5.2 - Photos of various sizes from 18.1x13cm to18.1x6.5cm
Size (cm) : : about 18.10x13.00 - Photos of various sizes from 18.1x13cm to18.1x6.5cm
Date : February 1917
Place : Russia
Condition : 4 Citrate prints and various papers, Fair condition, some creases, folds and tears, pieces of old tape on the photos

Shipping

UK
FREE

Europe
FREE

Other countries
including USA/Canada
FREE


Orders over €100.00 are shipped in a flat box by registered post.

For orders below €100.00, registered post is available at a cost of €6.00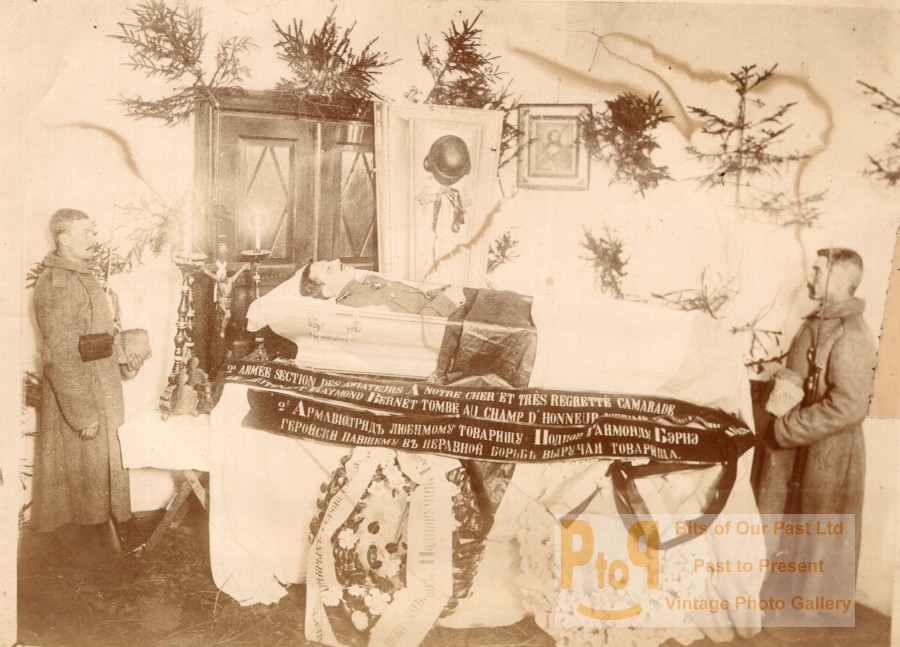 Russie WWI Aviation Raymond Bernet Observateur Mort au Combat Lot de Photos Anciennes 1917



Lot of 4 vintage anonymous photographs, 1 letter, hand written copy of a telegram and 2 newspaper clipping (duplicate).

Lieutenant Raymond Bernet was Alphonse Poiree's observer during their time with the Russian Army. He was killed during his first mission without Poiree while trying to rescue an allied airplane attacked by a german plane.

The 4 photos shows Bernet in his open casket as well as the transport of his body to St Petersburg. It looks like a Voisin airplane was transformed for the occasion, mounted on skis and without the wings. The last photo is of the engine of Bernet's Voisin plane.
The letter was written by Morin, Poiree's mechanic, who was still in Russia, to Charles Gilbert, french aeronaut who was still living in Moscow at the time. He explains that Poiree had been ordered to return to France and describes Bernet's last day as well as how he received a posthumous St George Cross.

The other hand written paper is a copy of a telegram Poiree sent to Bernet a few days before his death. This was handwritten and signed by Poiree.

The newspaper clipping is a russian article about Bernet's death and would need to be translated.

See additional scans below.