Jules Favre, french politician old Pierre Petit CDV Photo 1860
Ref. : B00120
Price : €24.00
Size (inches) : 2.3x4.1
Date : ca 1860
Place : n/a
Condition : good to very good condition, a bit light, light soiling,

Shipping

UK
FREE

Europe
FREE

Other countries
including USA/Canada
FREE


Orders over €100.00 are shipped in a flat box by registered post.

For orders below €100.00, registered post is available at a cost of €6.00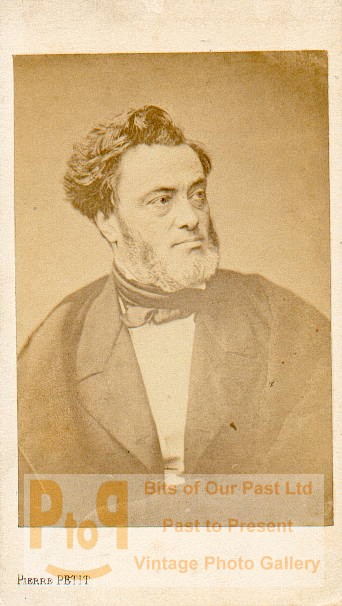 Jules Favre, french politician Ancienne CDV Photo Pierre Petit 1860
Gabriel-Claude-Jules FAVRE (1809-1880). Albumen print.
Photographer/Credit :
Pierre PETIT
31, Place Cadet, Paris, France. Pierre Petit apprend la technique photographique avec Eugène Disdéri. Il est surnommé Collodion le chevelu.Il installe ses studios à Paris en 1858 rue Cadet puis rue La Fayette. Il ouvre un atelier à Bade et un autre à Marseille. Sur sa carte de visite on peut lire : Photographe de l'Épiscopat français, des Lycées et Écoles de France, de la Faculté de Médecine et de la Société des gens de lettres.En 1862 il est nommé photographe de l'Épiscopat et des ordres religieux et il réalise une série de portraits d'ecclésiastiques dans toute la France.La commission impériale le nomme photographe officiel de l'Exposition universelle de Paris en 1867 où il réalise 12000 clichés.