France Roubaix Lady and Poodles in Field Old Victor Vajda Photo 1930
Ref. : M02080
Price : €25.00
Size (inches) : about 3.3x5.3
Size (cm) : environ 8,5x13,5
Date : ca 1930
Place : France, Roubaix
Condition : Silver print, good condition, glue residue on reverse

Shipping

UK
FREE

Europe
FREE

Other countries
including USA/Canada
FREE


Orders over €100.00 are shipped in a flat box by registered post.

For orders below €100.00, registered post is available at a cost of €6.00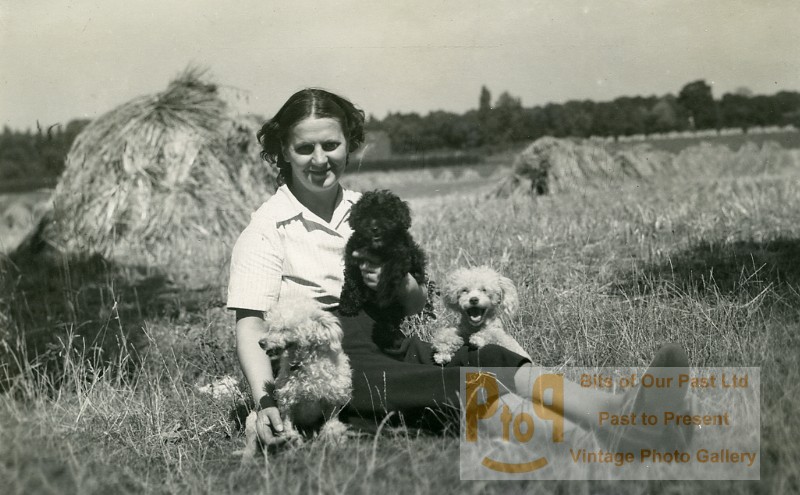 France Roubaix Madame et ses Caniches aux Champs la Vie est Belle Ancienne Photo Victor Vajda 1930


Vintage Victor Vajda Photograph (not signed).

This photograph was part of a small collection that came from a person in an Esperanto group in the north of France.

Cette photographie faisait partie d'une petite collection appartenant a une personne qui faisait partie d'un groupe d'Esperantistes.

See additional scans below.



Photographer/Credit :
Victor VAJDA
Courte Biographie: Né le 2 mai 1900 à Budapest en Hongrie, ses parents sont commerçants. En 1920, il ouvre a Roubaix une entreprise de publicité et de peinture en lettre. Il adhere à la même époque au Cercle Espérantiste Roubaisien "Al Fratigo". En 1925, Il épouse à Roubaix, salamon Klara, d'origine Autrichienne, ils font partis des 56 couples à travers le monde à s'être marié en espéranto. En 1928, ils habitent au 76, rue Saint Maurice à Roubaix. En 1939, son nom disparaît du registre du commerce.