France Grand Military Manoeuvres East Army Cooks Old Photo Meurisse 1911
Ref. : M03346
Price : €50.00
Size (inches) : about 5x7
Size (cm) : environ 13x18
Date : 1911
Place : France, région de Besançon - Vesoul
Condition : Silver print, good condition, light creases






Original photo from a news / wire service with original paper caption (unless otherwise stated). These photos were distributed to newspapers to include in their articles. This is a real photo, not a newspaper clipping.
Shipping

UK
FREE

Europe
FREE

Other countries
including USA/Canada
FREE


Orders over €100.00 are shipped in a flat box by registered post.

For orders below €100.00, registered post is available at a cost of €6.00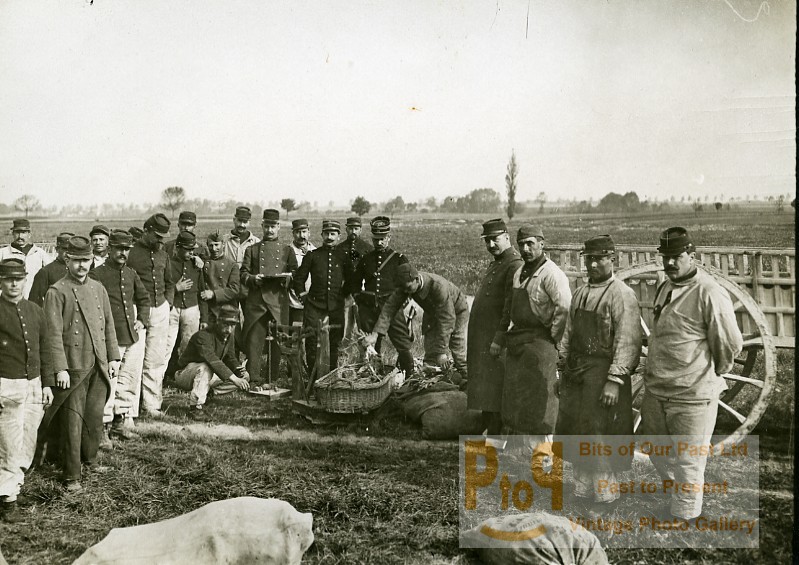 France Grandes Manoeuvres Militaires de l'Est Armee Cuisiniers Ancienne photo Meurisse 1911


Vintage Meurisse Studio Photo (not stamped).

Le 7eme Corps d'Armée aux Grandes Manoeuvres de l'Est du 5 au 15 septembre 1911

Une armée blanche (ennemie), armée fictive l'artillerie (7e Corps) venant de l'Est, a pris l'offensive par Epinal et au nord de cette place contre une armée rouge (fictive également). Elle couvre son flanc gauche dans la direction de Vesoul. Pur des forces importantes qui ont passé la Moselle.les 6 et
7 septembre, au Thillot et à Rupt, se dirigeant
vers le Sud-Ouest.
Des débarquements d'une deuxième armée
rouge (fictive aussi), sont en cours d'exécution, à
Besançon et à Montbozon ces débarquements
sont protégés par des troupes de couverture
réelles, les J3' et divisions de cavalerie et le
1er Hussards, sous les ordres du Général Durand
de Villers, et dont le gros est concentré le
7 septembre à l'ouest de Saulx-de-Vesoul.

See additional scans below.



Photographer/Credit :
MEURISSE
Paris, France