France Paris War German Occupation Poster Bread Ration WWII Photo Nicolini 1940
Ref. : M04163
Price : €180.00
Size (inches) : about 7.2x9.6
Size (cm) : : about 18.00x24.00
Date : June 1940
Place : France, Paris
Condition : Silver print, poor condition, damaged emulsion

Shipping

UK
FREE

Europe
FREE

Other countries
including USA/Canada
FREE


Orders over €100.00 are shipped in a flat box by registered post.

For orders below €100.00, registered post is available at a cost of €6.00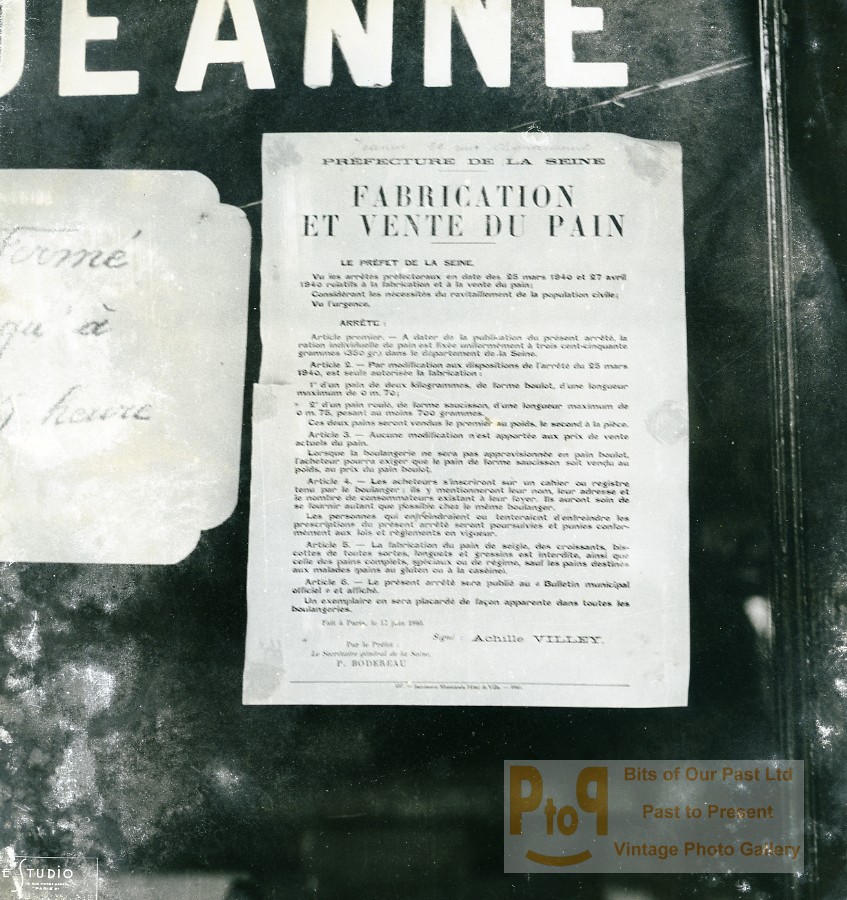 France Paris WWII Guerre Occupation Allemande Poster Rationnement du Pain Ancienne Photo 1940


Vintage Le Studio/F. Nicolini Studio Photo, stamped on back.

'Fabrication et vente du pain, signée Achille Villey'

The poster is about bread rationing (350g per person) and details the type and size of bread bakeries are allowed to make and sell in the Seine department.

See additional scans below.



Photographer/Credit :
F. NICOLINI
Photographie "Le Studio" à Paris (1940-1944) Nom : Nicolini Prénom : F. Reporter Photographe pour le Journal bi-mensuel italien "Tempo" en 1942 - 1943 Journal publié durant la guerre en langue francaise, revue italienne au service de la propagande italienne en France, en 1940, il a déja le tampon du 5 rue pierre Haret. 1943: Tampon Le Studio, 5, rue Pierre un autre tampon: F. Nicolini, 6, rue Pigot, Paris - Passy 36-88 un troisième tampon, bien détaillé: Le Studio/ Nicolini, rue Pierre Haret (Francais, Allemand) Haret, Paris - Trinité 42-28. A la fin de la guerre il rentre en Italie et reprend son travail de Photographe. Le photographe Willy Rizzo aurait démarré sa carrière dans ce studio.
| | |
| --- | --- |
| Negative/Photographer's No. : | Z233 |