Switzerland Geneva Feminist Congress Old Photo Jullien 1930's
Ref. : M05595
Price : €50.00
Size (inches) : about 9.32x6.8
Size (cm) : : about 23.30x17.00
Date : ca 1930
Place : Switzerland, Geneva
Condition : Silver print, good condition, light creases.






Original photo from a news / wire service with original paper caption (unless otherwise stated). These photos were distributed to newspapers to include in their articles. This is a real photo, not a newspaper clipping.
Shipping

UK
FREE

Europe
FREE

Other countries
including USA/Canada
FREE


Orders over €100.00 are shipped in a flat box by registered post.

For orders below €100.00, registered post is available at a cost of €6.00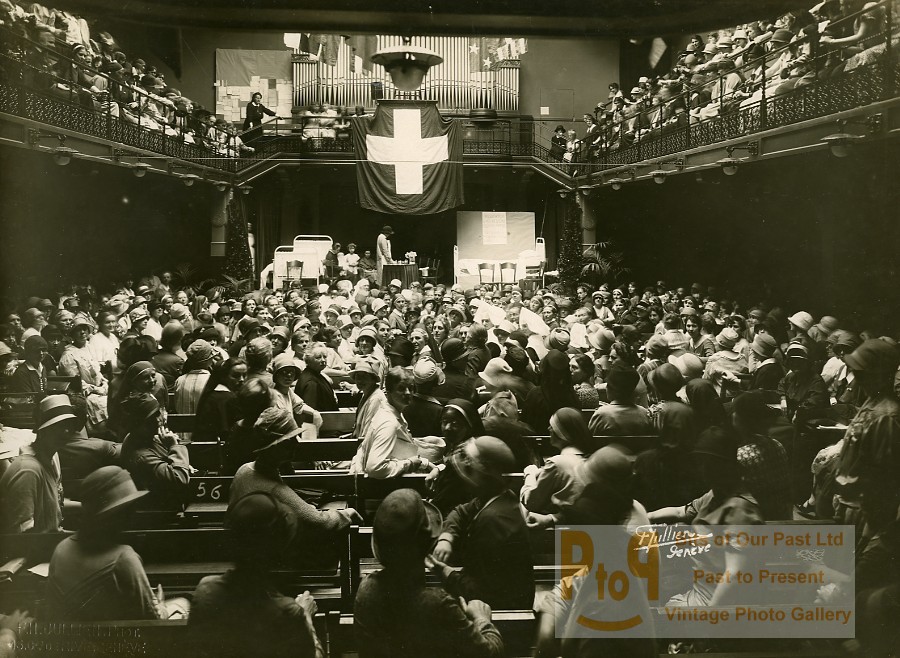 Suisse Geneve Congrés Feministe Ancienne Photo Jullien 1930's


Vintage Jullien Studio Photo, stamped on back and blind stamped on lower left

See additional scans below.



Photographer/Credit :
JULLIEN Frères
Elisabeth Jullien fonde une librairie à Genève en 1839, sise aujourd'hui encore à la rue du Bourg-de-Four. Avec l'aide de ses fils John (3.11.1818 à Genève - 17.4.1887 à Plainpalais, auj. comm. Genève), qui avait déjà travaillé pour le libraire genevois Abraham Cherbuliez, et Louis (1815-1871), commis chez un banquier de la place et qui deviendra le comptable, elle fonde " Jullien et fils". Les éditions Jullien sont lancées un an plus tard, ainsi que l'imprimerie Jullien. Celle-ci disparaîtra cependant en 1850. Au fil des années, l'établissement et les éditions seront repris successivement par Louis et John, Alexandre (1854-1926) et John (1873-1928) (les deux fils de John) et enfin Anne Jullien, fille d'Alexandre. John (fils d'Elisabeth) est le cofondateur de la Société des libraires et éditeurs de Suisse romande et l'auteur, notamment, d'une Histoire de Genève racontée aux jeunes Genevois (1843, 1865, 1889). Les éditions du même nom sont étroitement liées aux publications genevoises, en histoire et en littérature. En 1930-1931 le fonds photographique de Jullien est acquis par les Editions Jaeger