Gennetines Military Maneuvers 1898 Album 56 Snapshot Photos Dmitri Oznobichine
Ref. : M10501
Price : SOLD
Size (inches) : about 2.4x3.4 on 9.6x14 mount (Album page) - photos size from 6 by 8.5cm to 9 by 9cm
Size (cm) : : about 6.00x8.50 on 24.00x35.00 mount (Album page) - photos size from 6 by 8.5cm to 9 by 9cm
Date : September, 1898
Place : France, Gennetines
Condition : 56 Citrates print, good condition, light creases
Shipping

UK
FREE

Europe
FREE

Other countries
including USA/Canada
FREE


Orders over €100.00 are shipped in a flat box by registered post.

For orders below €100.00, registered post is available at a cost of €6.00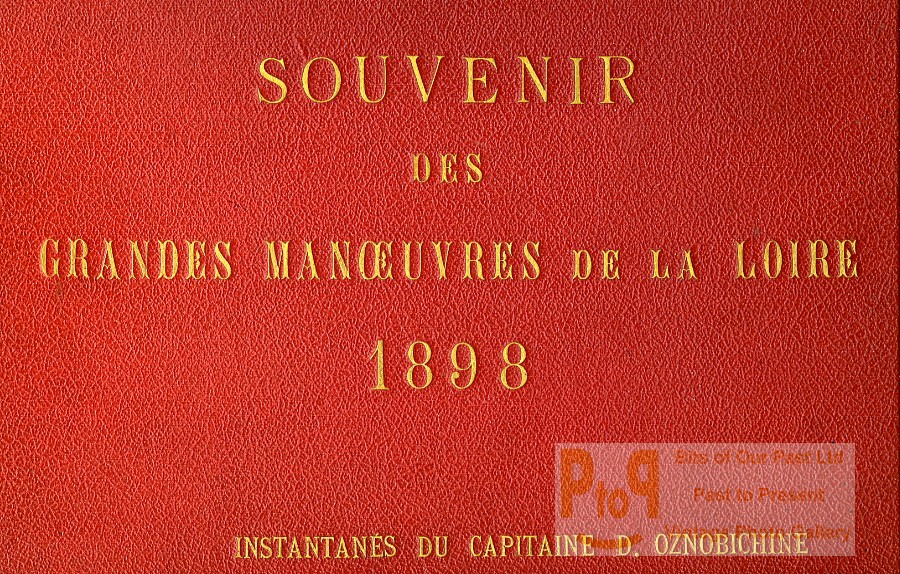 France Gennetines Grandes Manoeuvres Militaire 1898 Album 56 Photos de Dimitri Oznobichine


Vintage Dimitri Oznobichine amateur photographs.
Dimitri Oznobichin: (1869-1956), Russian painter and cavalry general of the Russian Imperial Guard, aide-de-camp of the Duke of Leuchtenberg, Russian military attache in Bern and Paris during the First World War

The Great Maneuvers were directed by General de Négrier. The President of the Republic, Felix Faure and the Duke of Connaught, son of Queen Victoria of England have attended Gennetines the last three days.

The Great Maneuvers opposed the 8th and 13th Army Corps which included:
- 14 infantry regiments
- 14 cavalry regiments totaling about 40,000 men
- 4 artillery regiments including 6000 horsemen
- Plus Genie, crew train, crews, aerostats, cyclists
-------------------------------------------------------------------------
Les Grandes Manoeuvres de la Loire se sont déroulées du 6 au 16 septembre 1898.

Les grandes Manoeuvres ont opposées le 8ème et le 13ème corps d'armée qui comprenaient :
- 14 régiments d'infanterie
- 14 régiments de cavalerie soit au total environ 40000 hommes
- 4 régiments d'artillerie don't 6000 cavaliers
- Plus le génie, le train des équipages, les équipages, les aérostats, les cyclistes..

Les grandes Manoeuvres étaient dirigées par le Général de Négrier. Le président de la République, Félix Faure et le Duc de Connaught, fils de la Reine Victoria d'Angleterre ont assisté à Gennetines aux trois derniers jours.

Dimitri Oznobichine: (1869-1956), Peintre russe et général de cavalerie de la Garde impériale russe, aide de camp du duc de Leuchtenberg, attaché militaire russe à Bern et à Paris pendant la Première Guerre mondiale.

-------------------------------------------------------------------

See additional scans below.