Charles A. Lindbergh
The Lone Eagle in Belgium

Our February 2008 exhibition features photographs of Charles Lindbergh after his historic solo flight across the Atlantic. Most of these photographs are of the rarely seen visit to Belgium at the end of May 1927. While the photographs are not signed not stamped, we believe they are by Belgian photographer Louis Borremans.

The story is that Lindbergh didn't want to tour Europe after his flight and only wanted to go back home. His heroic feat made him instaltly a hero and on he went touring Europe and meeting with the Belgian and British Kings and Queens.

The first four photographs in the exhibition were taken in Paris Le Bourget before Lindbergh's visit to Belgium. They were found with the other photographs so we decided to include them in the exhibition as well.




Start

A new exhibition is added every 2 to 3 months, depending on our inventory and new acquisitions.
The subjects we plan to showcase next are Nude stereoscopes on glass plates, 19th century Vienna and pre World War I Russian Aviation.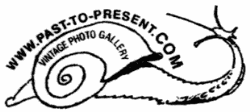 © 1998-2022 by Laurent Brocard - Bits of Our Past Ltd - http://www.past-to-present.com